I was born into a journalism family, my father, the late Jose Avila, hosted the Fiesta Hour Show, also known as the "Fiesta de la Cancion Mexicana" for 17 years on KTIP and KCOK radio stations in Porterville and Tulare. My brother, the late Nicholas Avila, also worked in radio and television all his life and was editor of a Spanish newspaper, La Verdad, in Porterville. My sister Terri DeSoto is a high school Spanish teacher in Fresno but continues to work in broadcasting. Her "Mari Bundy" show, originally broadcast live from downtown Porterville in 1995, was moved to Fresno where it now airs on local television there.
The early years
I was born in Texas and moved to Porterville, California at age 1. I have lived here ever since, therefore I consider myself a true California girl, but above all, I am an American. Always have been. Always will.
Born to a blind father, some of my most treasured memories are of he and I sitting on the porch on rainy days -- reading, while listening to the rain. He read in Braille. I read silently.
I have been writing since fourth grade (after taking a first-place award in a school-wide poetry contest) and I wrote my first Young Adult book in 1972. I dabbled with creative-writing classes in 1976, 1985 and 2003.
I had a Letter to the Editor in the Porterville Recorder published at age 16 -- when I saw it in print, I knew that someday I'd write for my home paper. (It finally happened in 2001)

I have been hooked on writing ever since writing "Journey to a Time Capsule" (Civil War era) for Don Renwick's U.S. history class in 1975 at Porterville High School.
I owe a lot of my success to my late father, Jose Avila. My father was blind when I was born and I never saw my face. He would always tell me that he could see me with his heart...and that I was his eyes. I believe he was the reason that by age 4, I was reading. He taught me about perseverance and believed that I could do anything if I set my mind on it. He was living proof. Even though he was blind, he was a successful businessman, running a couple of stores, having his own radio program for 17 years on KTIP and KCOK, and he was the founder and first president of El Futuro Credit Union in Porterville.
My father also taught me about the importance and beauty of description. Every scene that I described to him had to be vivid. It taught me how to be a great story-teller.
The growing-up years: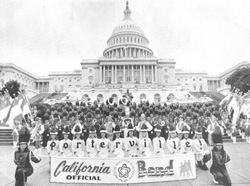 I attended local schools -- Olive Street School, Bartlett Jr. High, Porterville High School - where I marched in the Panther Marching Band under Frank "Buck" Shaffer (that's me, the first L, in Washington D.C. during our bicentennial year)
I also attended Porterville College and Fresno State University. While at PC, I was a cheerleader and was active in cross country and track (10 school records)
After earning my nursing degree I worked at Sierra View District Hospital Emergency Room for 5 years before becoming a Migrant School Nurse. I was assigned to Pixley, Terra Bella, Woodville and Porterville schools.
The grown-up years
My passion was always to write. In August of 2003, once my children were older, I returned to school and took journalism classes.
I was hired by the Porterville Recorder on September 30th, 2003 (my best birthday present ever) and instantly fell in love with my job. I was writing daily and loving every day of it. To this day, I love seeing my byline on the front page and it blows me away to think that people were picking up the newspaper and reading something that I wrote.
I was especially excited when I received an "Excellence in Journalism" award in November 2003 for my story, "No Time to Waste."
In March of 2005 I left the newspaper to pursue other writing endeavors. I freelanced for several papers, while working on a collection of short stories and a novel.
I returned to full time journalism on April 1, 2008.
Credits:
| | |
| --- | --- |
| | More than 3,800 published articles and stories in newspapers, websites and local magazines, including The Fresno Bee, South Valley Bee, The Madera Tribune, Valley Voice, The Porterville Recorder, La Verdad, Arrowhead, Noticiero Semanal, Visalia Times Delta, Tulare Advance Register, Discover Magazine, TC Style Magazine, several community newsletters and several Trade Journals, a couple of international Funeral Service magazines, and Overture Magazine. |
| | |
| --- | --- |
| | "Excellence in Journalism" award (November 2003) |
| | Recorded television commercials for the Bakersfield Californian in English and Spanish |
| | Recorded radio commercials for the Bakersfield Californian, English (2005-2006) and Spanish |
| | |
| --- | --- |
| | Story in the anthology, Stories of Strength -- 100-percent of the profits benefited disaster relief efforts following Hurricane Katrina. www.storiesofstrength.com ( Nov. 2005) |
| | Website reviewed by Cobwebs of the Mind, November 2006 |
Online writing contests
Hobbies:
I love to travel and I have been everywhere from Canada to Mexico and I have traveled through some parts of Europe - The Netherlands, Belgium, Germany and France. My favorite place would have to be the Yucatan Peninsula in the Caribbean. I especially loved Akumal, Xcaret and Tulum. In the U.S., I love the San Juan Islands and will never forget the two summers I spent on Whidbey Island. I also love the East Coast - and have traveled there many times. I am extremely patriotic and love historical places -- Gettysburg, Boston, Washington D.C. And of course, I love Philadelphia. Besides visiting the traditional tourist places, I have been to Carpenter's Hall, have eaten at City Tavern, and I have thrown a penny on Benjamin Franklin's grave. I have been to Hawaii and love Kailua Beach (windy side of the Island - swim with turtles) and Pearl Harbor the best. I visited in June 2007 and spent 10 days there with my children.
I love baseball, specifically my hometown single-A team (now Arizona Diamondbacks ) The nice thing about single-A ball, you really get to know the players before they are famous. I know so many baseball players, and I can honestly say "He's been to my house" when I see them in the major leagues. I have stayed close to several of them. I'm a friend of Jeff Francis family in Canada. (major league pitcher w/Colorado Rockies)
I recently learned that one of my all-time favorite players - Alvin Colina (c) has made his debut in the majors this week. (Colorado Rockies -- 9/06)
My greatest joy comes from my children. I love spending time with them and supporting them in all they do. They are listed in Who's Who Among America's High School Students, been inducted into the National Honor Roll Hall in Washington D.C., and are active in community service, sports, the arts and band. I am always there, in the front row, cheering them on. My beautiful daughters are 16, 18 and 25.
To read more about Esther Avila's life, visit her blog.