<![if !vml]>

<![endif]>
Friday, November 25, 2005
<![if !vml]>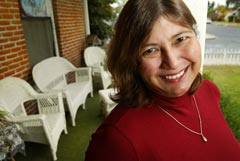 <![endif]>
Book to help Katrina victims
South Valley author's work is published in a new anthology.
She's one of about 100 writers whose fiction and nonfiction short stories and poems are featured in the book "Stories of Strength."
All proceeds from the book will help Katrina survivors, Avila said.
The book, meant to inspire readers to beat the odds, is a product of AbsoluteWrite.com, where writers gathered days after the devastating hurricane hit New Orleans and surrounding areas and expressed through a message board how helpless they felt in offering assistance.
"Some of the little towns hit by Katrina are just barely starting to get aid," Avila said. "It feels good to have written a story that could potentially help the people in this area. This is going to help a lot of people. That's our hope."
The anthology project was suggested by editor Jenna Glatzer. She and the group of writers and volunteers eventually hope to raise $100,000 with the book. So far the book has pulled in $2,000,Glatzer said.
Writers hope consumers will buy the books as Christmas gifts for friends and family this year.
"I figured that book sales could go on for years to come and keep donations rolling in to charities to help with disaster relief," Glatzer said.
"This project belonged to all of us."
The book is published by Lu Lu Inc. The company is donating its profits to Hurricane Katrina victims, as well, Avila said.
The 333-page book is available to purchase online for $15.95. Avila hopes Borders will soon carry copies of the book for local people to buy and to promote the book with book signings.
Some of the contributing writers are from all over the world. Some are longtime professional authors; others are being published for the first time. Hundreds of entries were submitted to Glatzer before she decided on the final 100 that would be in the book.
This is Avila's first publication in a book, but she is an experienced freelance writer who has had articles printed in The Porterville Recorder and The South Valley Bee in Visalia. Avila formerly worked as a registered nurse but is focusing more on her writing now, she said.
The fictional story she wrote for "Stories of Strength" is about a young, developmentally disabled boy told through the eyes of his Sunday school teacher.
The story, "Rafael's Gift," focuses on the boy's endurance. Doctors have told his single mother since his birth that he will not live long.
Rafael was born two months premature, blind and with a heart murmur, Avila wrote. He would never talk and possibly never walk, his doctors said. Yet Rafael proved his doctors wrong by learning to walk and living to the age of 11.
Though Rafael was a fictional character, the story was based on a young boy from Porterville; Avila wrote a story about him for The Recorder after he died about a year ago. Avila, who also has a developmentally disabled child, got to know his mother while doing the story but never met Rafael.
"I knew the difficulties she had been faced with," said Avila. "I kind of bonded with her."
<![if !vml]>

<![endif]>